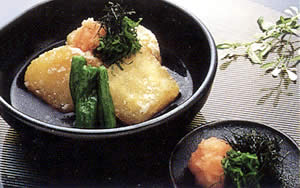 Deep-Fried Daikon in Broth
Ingredients (4 servings)
300g Shogoin Daikon radish
Potato starch, as needed
8 Shishi Togarashi (small sweet green chilli)
1 chive
100g Momiji Oroshi (grated daikon and chili)
Thin trips of Nori (Kizami-Nori), as needed
Ponzu soy sauce (soy sauce with Yuzu citrus juice), as needed
Frying oil, as needed
Directions
(1) Cut the Shogoin Daikon radish into wedges of 3cm in length. Cook for about 10 mins in seasoning.
(2) Cover (1) in potato starch, and deep-fry the Daikon radishes in 180˚C cooking oil until crisp.
(3) Similarly, deep-fry the Shishito Togarashi chillis.
(4) Chop chives into small pieces.
(5) In a serving bowl, place (2) and (3), garnish with Momiji Oroshi, sprinkle chives, and strips of Nori on top, then dress with flavored ponzu sauce.