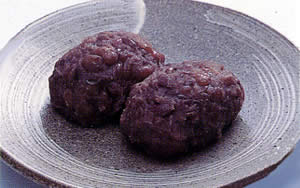 Ohagi – Rice Ball Coated with Sweetened Red Beans
Ingredients (4 servings)
3 cups glutinous rice
1 cup rice
(A) (4 cups water, less than 1 tsp. salt)
For coloring (1-2 drops of red food coloring, 1 Tbsp. water)
Coarse sweet red bean paste (600g red bean, 600g sugar, 1/4 tsp. salt)
Directions
(1) Wash the glutinous rice and regular rice, and let soak for 1-2 hours in (A) before cooking.
(2) Create 36 round balls of the course sweet red bean paste, each around 20g.
(3) Dissolve 1-2 drops of red food coloring with 1 Tbs. of water.
(4) Divide the cooked rice into 2, leaving the first half plain (white), and with the other half add (3), the red food coloring mixture and press, and mix together well.
(5) Dip your hands in some salt water and roll (4) into18 equal round balls.
(6) Wrap each of (5) in the flattend course sweet red bean paste and form into oval shapes.