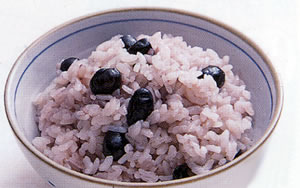 Black Soybean Rice
Ingredients (4 servings)
1/2 cup glutinous rice
1 cup rice
50g black soybean
(A)
1 Tbsp. Sake
1/4 tsp. salt
1.5 cups water
Directions
(1) Wash both the regular rice and glutinous rice together, drain, and set aside for about 30 mins.
(2) Wash the black soybeans, then dry by wiping away moisture. Use a frying pan to roast the black soybeans over low heat until you can smell the aroma.
(3) Cook together the rice, black soybeans, and (A) in the rice cooker to finish.