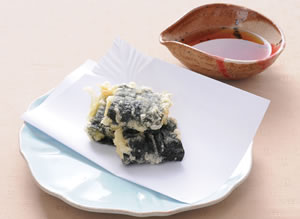 Deep-Fried Japanese Yam
This comfort food has the rich taste of sticky yams, wrapped in savory seaweed
Ingredients (2 servings)
1/4 (50g) Japanese yam
1 sheet, Nori (seaweed for Norimaki)
100ml flour
1/2 egg (beaten egg),
70ml cold water
Frying oil, as needed
(A) Tempura Sauce
100ml Dashi stock
20ml Mirin
20ml light soy sauce
Directions
(1) Peel yams, rinse under water, and grind in a mortar.
(2) In a bowl, beat together the water, and egg until well mixed, then mix in flour lightly to make the tempura batter.
(3) Divide the Nori sheet into 6 equal pieces, and wrap the yams from (1) inside. Coat with the tempura batter mixture and deep-fry in 160˚C cooking oil.
(4) Combine all ingredients under (A) into a pot and let it come to a boil, then divide into two equal parts.
(5) Lay a piece of tempura paper on a plate, then arrange the fried yams and serve with sauce for dipping.