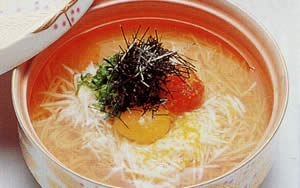 Japanese Yam Somen Soup
Ingredients (4 servings)
Japanese yam, desired amount of your choice
Dashi stock 6 : light soy sauce 1 : Mirin 1 (ratio)
Green onions, as needed
4 quail eggs
Momiji oroshi (grated daikon and chilli), as needed
Very finely cut Nori, as needed
A sprinkle of grated Yuzu citrus peels
Directions
(1) Peel yams, and put into vinegar and water solution for about 1 hour, then rinse with water.
(2) After thinly slicing into long strips, cut yams into fine strips, then put them in water to get rid of sliminess.
(3) Add light soy sauce and mirin into the Dashi stock made from dried bonito flakes, and kelp and let it come to a boil.
(4) Place yams into a bowl, then pour in the Dashi stock.
(5) Add the quail eggs, Momiji Oroshi, green onions, and finely cut nori pieces on top, and sprinkle on Yuzu citrus peels.