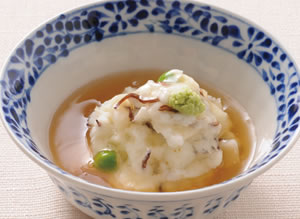 Tango Tilefish Steamed with Turnip
The savory aroma and flavorful Tango Tilefish (red tilefish) is enhanced by the turnip, making this a dish full of Kyoto flavor.
Ingredients (4 servings)
1/4 Shogoin Turnip
1 (400g) Tango Tilefish
1/2 egg whites
1/3 lily bulb, small
4 raw ginkgos
5g wood ear mushroom (in water)
10g Wasabi paste
(A)
400ml Dashi stock
20ml light soy sauce
3ml salt
30ml starch water (starch 1 : water 2)
Directions
(1) Cut the Tango Tilefish into 3 pieces, remove center bone, and put salt on both sides. After rolling it in salt, cut in quarters, and place in hot water to boil for a brief moment, then place under cold water, and clean thoroughly removing scales and dirt.
(2) Clean and boil the lily bulb, and cut the wood ear mushrooms into long thin strips.
(3) Peel the turnip thickly and grate it. Place in a sieve, salt lightly, mix, and then remove excess water. Put it into a bowl, mix in the egg white and add the lily bulb and sliced wood ear mushrooms (2).
(4) Put the Tilefish (1) in a heat-resistant dish, top with the turnip from (3), cover with a lid and steam for about 12 minutes on high heat.
(5) Put all ingredients from (A) in a pot and let heat. When it starts to boil, add the starch water and let it dissolve and thicken. Then pour over the Tilefish and garnish with wasabi.