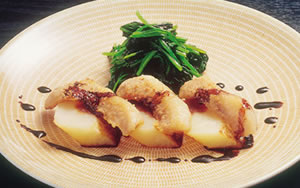 Shogoin Turnip Steak
Ingredients (4 servings)
1/2 Shogoin turnip
200g fatty pork
1 bunch of spinach
Salt, as needed
Black chilli, as needed
Olive oil, as needed
600ml bouillon
1 bay leaf
Balsamic sauce:
100ml balsamic vinegar, 1Tbsp. olive oil
Directions
(1) Cut the thickly peeled turnip into 2cm half moons, and cook in a pot with the bouillon and bay leaf, then remove liquid.
(2) Heat the olive oil in a frying pan, and cook turnips on both sides until brown.
(3) Cut the spinach in 3cm sizes, heat in the same frying pan, and add salt and chilli to taste.
(4) Cut the pork into pieces according to the number of people, salt and chilli, then fry in the frying pan with olive oil until brown on both sides.
(5) Warm up half of the balsamic vinegar in a small pot, then mix in the olive oil.
(6) Arrange turnips, pork, and spinach onto a plate, then dress with the balsamic sauce (5).