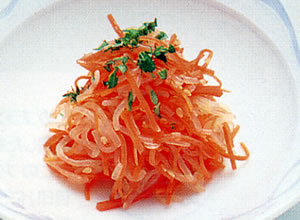 Kintoki Carrots with Konjac Noodles
Ingredients (4 servings)
1 Kintoki carrot
1 pack of Konjac noodles (Konjac cut into fine threads)
3 Tbsp. Sake
2 Tbsp. Mirin
1.5 tsp. light soy sauce
White sesame seeds, as needed
Directions
(1) Cut the Konjac noodles into 3cm lengths, then boil in water for about 10 mins, drain, and set aside.
(2) Julienne the Kintoki carrots.
(3) Put the sesame oil in a frying pan, and once steam rises add (1) and (2).
(4) Add Sake, Mirin, light soy sauce into frying pan while sauteing to add flavor.
(5) Add roasted white sesame seeds into (4) and continue sauteing until juice has evaporated.