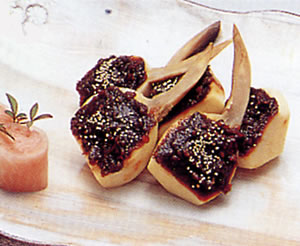 Miso-Glazed Kuwai Dengaku
Ingredients (4 servings)
8 Kuwai (tubers of threeleaf arrowhead)
Dashi stock, enough to soak ingredients
Sake, to taste
Mirin, to taste
Salt, to taste
Light soy sauce, to taste
Sugar, to taste
Dengaku Miso
Directions
(1) Peel the arrowhead tubers, rinse, then boil until toothpick goes through with ease. (At this time if you put in dried gardenia fruit wrapped in gauze, it will turn the tubers into a prettier color.)
(2) Combine Sake, Mirin, salt, light soy sauce, and sugar into (1) and let simmer over low heat.
(3) Cut the arrowhead tubers in half from (2), then paste on your favorite Dengaku miso sauce.