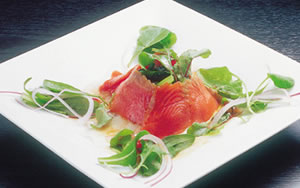 Marinated Kyoto Kokabu and Smoked Salmon
Ingredients (4 servings)
1 Kyoto Kokabu
100g smoked salmon
Leaves of 1 Kyoto Kokabu
1 pack, baby leaves
1/2 red oinon
Salt, as needed
For the marinade:
2 Tbsp. vinegar, 3 Tbsp. dark soy sauce, 3 Tbsp. olive oil
Directions
(1) Combine the marinating ingredients in a bowl.
(2) Peel the Kyoto Kokabu and slice thinly with a slicer.
(3) Place the Kyoto Kokabu from (2), and smoked salmon in a tray, then pour the marinating solution from (1) and set aside for a while.
(4) Remove the core from the red onion and julienne the onion.
(5) Cut the Kyoto Kokabu leaves of into 3cm in length, then boil in water with salt. Afterwards, drain out into cold water, and then squeeze out water.
(6) Serve red onions from (4), Kyoto Kokabu leaves from (5), baby leaves, and the marinated Kyoto Kokabu from (3), onto a serving dish and pour the marinade from top to finish.