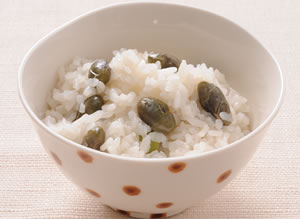 Murasaki-Zukin Soybean Rice (Kyoto Natsu-Zukin soybeans can also be used)
The beans add a gentle color to the rice giving it an exquisite aroma
Ingredients (2~3 servings)
300g Murasaki-Zukin Soybeans (or Kyoto Natsu-Zukin soybeans)
360ml rice (2-Go)
5g kelp
440ml water
3ml salt
Directions
(1) Wash and drain rice, then set aside for about 30 minutes.
(2) Heat the Murasaki-Zukin soybeans briefly until the surface is cooked, then remove the beans from the pods and let sit in water.
(3) Put rice inside rice cooker, then add water, kelp, salt, and the Murasaki-Zukin soybeans from (2) and cook altogether in the rice cooker.
(4) After the rice has cooked, remove the kelp, and use a rice paddle to fold the rice gently. Place the finished rice into a dish to serve.