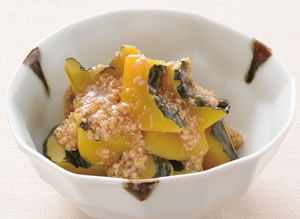 Kagaya pumpkin chicken with rag soup
The pumpkin and chicken create a perfect harmony when put together.
Ingredients (for 4 people)
Kagaya pumpkin … 1/2
Chicken ground ground … 100g
ginger … 15 g
Watery starch potato starch (potato starch 1: water 2) … 20 ml
Dashi soup … 400ml
Liquor … 50ml
A
Mirin … 15ml
Sugar … 30ml
Light soy sauce … 30ml
Soy sauce … 10ml
How to make
Cut the Kagaya pumpkin to bite size and cut the corners and cook it with dashi stock.
Put chicken in bowl and mix in chopped ginger and sake.
When 1 becomes soft, add A and simmer on low heat for about 5 minutes.
Stop the fire and when the flavor seeps into the core, serve the pumpkin in a bowl. Keep the juice inside the pot.
Put 2 in a pot, heat it and stir it with chopsticks. Add 4s juice and boil. Add watery potato starch and make thick soup. Pour the thick soup over the pumpkin.