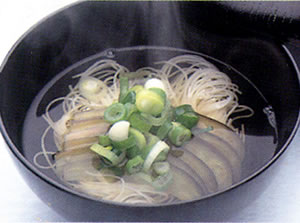 Yamashina-eggplant Somen
Yamashina-eggplant Somen
Somen … 1/2 bunch
Yamashina eggplant … 1
Green onions … 1
Dashi (dashi jako 30 g, water 700 cc)
Seasoning (2 teaspoons of soy sauce, small amount of salt)
How to make:
Take the head and stomach of the Dashijako and put it in the water turn on the fire. After it starts to boil, let it simmer for 10 minutes. Dashi broth is made by filtering the mixture with a Japanese cloth.
Cut the Yamashina eggplant stem off and cut it in two in a vertical direction and one slice diagonally. Place the eggplant in water and let it boil.
Boil the somen with boiling water and later wash it with water.
Add seasonings to dashi broth of 1 and simmer 2's eggplant for a while. Then add 3's somen in, stop the fire and serve in a bowl.
Cut the green onion into small pieces and put it in 4.