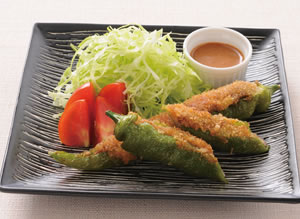 Deep-Fried Manganji chillis Stuffed with Minced Meat
A western dish that can only be perfected by adding the Manganji chilli.
Ingredients (for 2 people)
Manganji chillis … 6
minced meat… 150g
cabbage … 100g
tomato… medium 2
onion… 100g
egg(mixture)… 1
bread crumb… 200ml
flour… 30ml
salt… as necessary
A sauce
ketchup… 20ml
worcester sauce… 20ml
mayonnaise… 10ml
salad oil… 10ml
fry oil… as necessary
How to make
Cut the Manganji peppers vertically and take the seeds out. Chop the cabbage into small pieces and cut the tomato so that it is easy to eat.
Peel the onion and cut it into small pieces and put some salad oil into the frying pan, seasoning with the salt and set it aside to cool down.
Put the minced meat in the bowl, add onion and half of the mixture egg to mix it, seasoning with the salt, and stuff in the chillis.
Put the flour, rest of the egg, bread crumb into the bowl, and deep-fry it with around the 160 temperature oil.
Serve the food in the dish, and put the cabbage and tomato in, and add the A sauce to seasoning the meal.