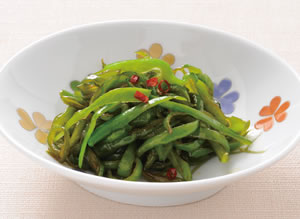 Manganji Sweet Pepper Kinpira
This refreshing and eye catching dish is very addicting
Ingredients (for 2 people)
Manganji sweet pepper (red chilli) … 12
Hot chili… 1
A
Sake … 40ml
Soy sauce … 30ml
Sugar … 30ml
Salad oil … 10ml
How to make:
Cut the Manganji-sweet pepper in half lengthwise, take the seeds in the middle and slice it diagonally.
Take the seeds and cut the chili pepper
Heat the salad oil in a pot, stir in one of the Manganji sweet pepper and stir fry well at medium heat.
When the Manganji pepper of 3 is cooked, boil down A on high heat. mix 2 and stop the fire. Serve in a bowl.