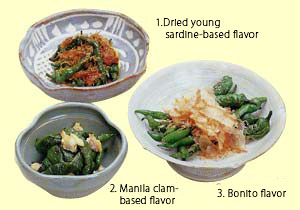 Fushimi Chili in three Kyoto-Style Flavors
1. small fish flavor
Ingredients (for 4 people)
Fushimi chillis … 400 g
dried bonito shavings… 10g
sugar… 2 tablespoon
mirin(sweet sake)… 2 tablespoon
soy sauce(strong)… 6 tablespoon
dried young sardines… 100g
salad oil… 2 tablespoon
Sake … 5 tablespoon
soy sauce(light)… 2 big spoon
Dashi broth… 100cc
How to make
put oil into the frying pan, and fry the Fushimi chillis with high heat.
Add all the sauce, dried young sardinesdried, and bonito shavings in. lower the heat to cook for around 10 mins.
2. clam kind
Ingredients (for 4 people)
Fushimi chillis … 200 g
clam meat… 50g
alcohol… 30cc
mirin(sweet sake)… 30cc
soy sauce(light)… 30cc
dashi broth… 100cc
How to make
Use the net to broil the Fushimi chillis.
Put the broth and condiments into a pot and cook. Place the chillis and the clam meat into the soup and cook for around 5 min.