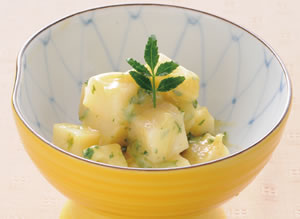 Kyoto Bamboo Shoots with Buds of Japanese chilli Tree
With the smell of the bamboo shoot and white miso, this dish welcomes spring.
Ingredients (for two people)
Kyoto bamboo shoots (boiled) … 120 g (1/2 pieces)
Tree bud … 30
A raw seasoning
Dashi soup … 200ml
Light soy sauce … 5ml
Salt … Small amount
White miso … 50 g
B Dressing
Dashi soup … 30ml
Sugar … 5ml
Mirin … 10ml
 How to make
Kyoto bamboo shoots must be cut into 1 cm pieces and boil in A quickly.
Put B in a pot and mix well, boil it once with a fire and let it cool.
Leave 4 tree buds, and cut the rest of the tree buds and mix it to 2, to make the dressing.
Put 1's bamboo shoots into the bowl, mix the 3's dressing and serve in a bowl. Place the decorative tree bud on top.