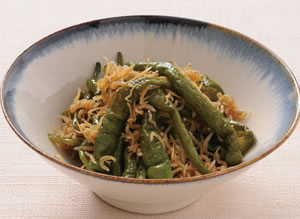 Fushimi Chili Simmered with Dried Young Sardines
A traditional Japanese food you will never get tired of
Ingredients (for 4 people)
Fushimi red chilli … 200 g
Dried young sardines … 50g
Dashi broth … 100ml
Sake … 50ml
Sugar … 20ml
Soy sauce … 30ml
How to make:
Fushimi red chillis must be cut vertically to take out the seeds and wash them with water.
Wash dried young sardines with water and strain the water.
Pour dashi and sake in a pot, put 2 dried yound sardines and boil it over medium heat.
Put sugar and soy sauce in a pan of 3, add 1's chilli and cook for 5-8 minutes at medium heat.
4 Mix well and serve in a bowl.