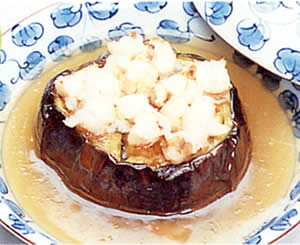 Minced Shrimp over Kamo-Nasu Eggplant with Thick Sauce
Ingredients for 4 people
Kamo-eggplant ​​… 2
Shrimp … 12 medium size
Yoshino Kuzu … 4 tablespoons
Ginger … 1
Dashi broth … 500 cc
Thin soy sauce … 1 tablespoon
Mirin … 2 teaspoons
How to make:
1.Cut off the top and bottom of the eggplant and slice it in half vertically. With the wider section facing up, open a hole of approximately 5 chopsticks and place in salt water for a while.
2.Remove the shrimps shell and cut into 1 cm chunks.
3.Mix the Yoshino Kuzu in water and create the solution
4.Wipe off the water on the eggplant thoroughly, and deep fried with hot oil and serve on a plate.
5..Add Mirin, light soy sauce, umami seasoning to the main dish, boil it, and add 2.
6.Pour 3 into 5, stop the fire, add the ginger juice and then pour everything on to 4.