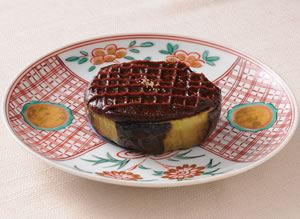 Miso-Glazed Kamo-Nasu Eggplant
A Well-known dish that brings out the most of the roundness and firm texture of the eggplant.
Ingredients (2 servings)
1 Kamo-Nasu eggplant
poppy seeds, for garnish
(A) Aka-Dengaku miso
100g Hatcho miso
30g roasted white sesame seeds (completely ground)
40g sugar
150ml water
50ml rapeseed blossom oil
Directions
(1) Cut the top and bottom ends of the eggplant, thinly peel off the skin leaving some skin to form stripes, and cut horizontally in equal slices. Poke holes into eggplant with a chopstick from the bottom side.
(2) Put cooking oil in frying pan. Cook the front side first of (1) on low heat, cover it and let it slowly cook until it is a little brown on both sides.
(3) Put (A) in a pot, mix well and let it boil. Let it boil down for a while and adjust consistency.
(4) Place (2) on plate, pour (A) over the eggplant and sprinkle poppy seeds on top.