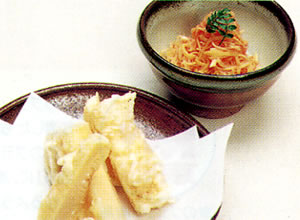 Kyoto Bamboo Shoot Tempura with cod roe Dressing
1, Tempura
Ingredients (for 6 people)
Kyoto bamboo shoots … 600 g
Flour … 1/2 cup strong
Egg … 1/2
Water … 1/2 cup
Frying oil … appropriate amount
Salt … to your liking
How to make
Cut 12 kyoto bamboo shoots to a thickness of about 5 mm.
Thinly coat the bamboo shoots with flour and apply tempura mix and fry.
Add salt to your likeing.
2,Cod roe dressing
Ingredients (for 4 people)
Soft shell of the bamboo shoot … 2 bottles
Cod roe … 1/2
Enoki mushroom … 1 bag
Tree buds … 4
Vinegar … 3 tablespoons
Sugar … 2 tablespoons
Water or soup stock … 1 tablespoon
Salt … a bit
How to make
Shred the soft shell horizontally and run it through with water.
Aftere squeezing the moisture of 1, mix the sweet vinegar with the cod roe and then mix it with the boiled enoki mushrooms. Serve in a bowl with the tree buds on top.