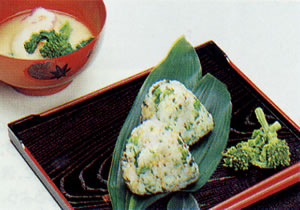 Rice and Soup with Rapeseed Blossom
This colorful tempura with great texture is a spring dish loved by Kyoto.
1,Rice with Rapeseed Blossom
Ingredients (for 4 people)
rapeseed blossoms … 100 g
Rice … 2 cups
White sesame seeds … 2 tablespoons
Sake … 1 tbsp
Salt … 1 teaspoon
Kelp … 10 cm
Salt … a bit
How to make
Clean the rice, add sake, water, and kelp and cook for 30 minutes, add salt and cook it on fire. Remove kelp when water starts to boil.
Boil the rapeseed blossoms in salt water and take out when cooked. Drain and dry the rapeseed blossom.
Grind the sesame fragrant.
Take the rice and mix the rapeseed blossoms and sesame paste.
2, 
Rapeseed blossom soup
Ingredients (for 4 people)
Rapeseed Blossom … 160 g
Soup stock … 4 cups
White miso … tbsp 4
Red miso … 1 tablespoon
Mochi … 4 pieces
Yuzu skin … a little
How to make
Boil the rapeseed blossom in salted hot water and drain .
Boil the soup stock, and melt the white miso and red miso into the soup.
Put rice cake and rapeseed blossoms in the bowl and pour the miso soup.
Add the slices of the yuzu to soup.