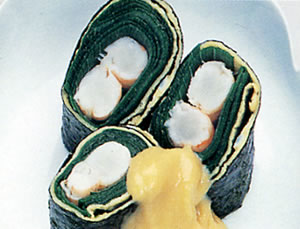 Nishiki roll with Kujo green onions
Ingredients (for 4 people)
Kujo green onion … 1 medium bunch
Egg … 3
Shrimp … 8 medium size
Glue … 2 sheets
White miso … 50g
Mirin … 1 tablespoon
Vinegar … appropriate amount
Sugar … 1 tablespoon
Mustard … appropriate amount
How to make
Cut the green onion to a proper size and boil until it gets soft.
Boil the shrimp and peel.
Thinly cook the egg.
Mix Mirin, white miso, sugar, mustard, and vinega over low heat.
Place seaweed on the roll, then the thinly cut eggs, then the green onion and shrimp. Wrap everything by rolling the roll.
Cut it into a size easy to eat, and pour 4 on top.