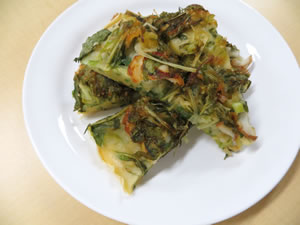 Mizuna and Kujo green onion Chijimi
You can enjoy the umami that is produced by the Kujo green onion and Mackerel
Ingredients (for 4 people)
Kujo green onion – 2 thick
Mizuna … 1/4 bag
Chikuwa … 2 small
Flour, potato starch … each 80g
Eggs … 1
Soup of bonito soup … 1 tsp
Sesame oil … 1 tablespoon
A
Yakiniku sauce … 2 tablespoons
Ponzu sauce … 1 tablespoon
Shichimi chilli … small amount
How to make
Cut Kujo green onion and Chikuwa Mizuna into small bits. Cut Mizuna to length of about 3 cm.
Add flour and potato starch together. Mix soup stock and eggs. Mix well with a whisk, gradually add water (about 1 cup) to mix and mix until the mixture is smooth.
Heat the sesame oil in a frying pan, and spread 2 thinly in a circle. Place green onion, Mizuna and Chikuwa on it. Pour some of the mixture on top, flip it over and cook well.
Mix the condoments together to creat the sauce. Cook the chijimi with the sauce. Cut to a size easy to eat, add Shichimi chilli to your liking.