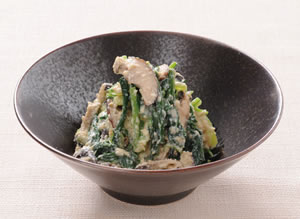 Kyo-Mibu rapeseed blossoms and grilled shitake mushrooms
Enjoy the fragrant shiitake mushroom and flavorful Kyo-mibu rapeseed blossom
Ingredients (for 4 people):
Kyo Mibu … 1 bunch (200 g)
Shiitake mushrooms … 8 slices
Firm tofu … 1/2 slice
Salt … Small amount
White sesame … 30ml
A
Dashi soup … 10ml
Sugar … 25ml
Light soy sauce … 10ml
How to make
Cut the root of the Kyo Mibu and wash with water. Add salt to boiling water and cook the Kyo Mibu. Then, cool with cold water, dry and cut them to length of 2 ~ 3 cm.
Cut the stems of the Shiitake mushrooms and lightly salt them. Then, grill (or toast) the mushrooms and thinly slice them.
Put white sesame in a mortar and add the tofu in by hand, then grind the mixture.
Place A in 3 and season well. Then, add 1 and 2 and mix well. Serve in a bowl.