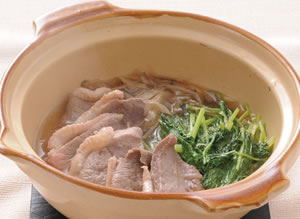 Kyo Miba and duck hot pot
A dish where you can enjoy the soft texture of the duck meat and the flavorful Kyo Mibu at the same time.
Ingredients (for 4 people):
Kyo Mibu … 1 bunch (200 g)
Duck meat … 1/2 sheets
Burdock root… 1/4
Powdered chilli … appropriate amount
A
Dashi soup … 300ml
Sake … 50ml
Mirin … 60ml
Light soy sauce … 40m
How to make
Wash and slice the burdock root.
Cut the duck meat into thin pieces (about 3 pieces per person). Wash Kyu-Mibu rapeseed blossoms and cut it to 3cm length.
Put A in a pot and turn on the fire. When it boils, add the burdock root and after it boils again add the duck.
Remove the residue from the soup and add the Kyo Mibu and let it cook.
Serve in a bowl and sprinkle some powdered chillis.