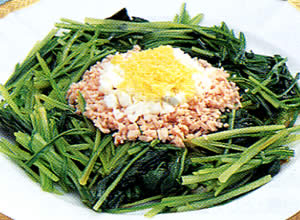 Egg · Ham salad
Ingredients (for 4 people):
Kyo Mibu … 200 g
Boiled egg … 1
Ham (sliced) … 2 sheets
Perilla dressing … appropriate amount
How to make
Boil Kyo-Mibu rapeseed blossoms quickly with hot water and cut it to length of 3 to 4 cm.
Divide the boiled eggs into white and egg-yolk, white is chopped, yolk is lined and finely ground.
Chop the ham.
Put 1 in the bowl, top it with 2 and 3, and apply perilla dressing.