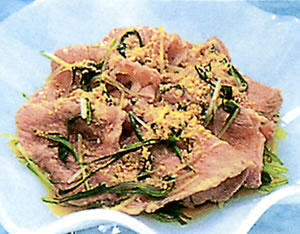 Cold Pork Shabu Shabu.
Ingredients (for 4 people)
Kyo-Mizuna … 500 g
Sliced ​​black pork … 200 g
potato starch … 3 table spoonfull
Sauce
Dashi soup 300 cc, light soy sauce 7 tbsp, vinegar tbsp 5 table spoonfull
Mirin 4 tbsp, grated ginger 20 g, roasted sesame seeds 5 table spoon
Instruction:
Boil the Kyo-Mizu cut rapeseed blossoms that are cut into 4 to 5 cm, and quickly cool down and drain.
Boil the pork gently with salt, cook it with a potato starch powder, boil it, quickly cool down and take it off.
Put 1 in the bowl, 2 stand up and apply your favorite sauce.