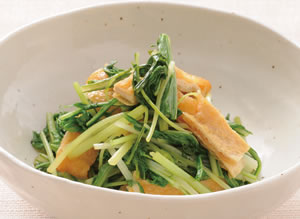 Kyo-mizuna cooked with fried tofu
A dish where you can enjoy the textuere of the kyo-Mizuna and the flavorful fried tofu
Ingredients (for 4 people)
Kyo-Mizuna… 1 bundle (200 g)
Fried tofu … 1 block
A
Dashi soup … 100ml
Sugar … 45ml
Soy sauce … 40ml
Instruction:
Cut the Kyo-Mizuna into 3 cm in length and wash gently. Divide the stem and leaves.
Get rid of the oilyness of the fried tofu by putting them in boiling water and cut it into strips which will be easy to eat.
Put A in a pot, boil it, and pour in 2 until it gets soft.
Place the stem of the mizuna in pot 3 and add the leaf when the stems are cooked. Then, turn the heat to high heat.
Serve in a bowl and enjoy it with a bit of chili.