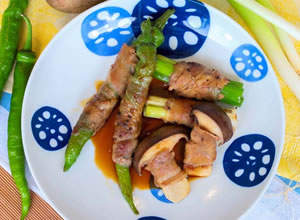 Pork Roll with Kyoto Vegetables (4 portions)
Ingredients (4 servings)
Kujo green onion…………………1/2 pack (75g)
Fushimi chilli pepper……………4 pcs (75g)
Manganji pepper…………………2 pcs (30g)
Daikoku hon shimeji
mushrooms………………………1 pack (100g)
Thinly sliced pork belly……………6 Slices
Salt…………………………………A pinch
Pepper………………………………A pinch
Vegetable oil………………………As needed
[Japanese Teriyaki Sauce]
Sake…………………………1 tbsp
Mirin…………………………1 tbsp
Soy sauce…………………1 tbsp
Sugar………………………1 tbsp
[Cantonese Oyster Sauce]
Oyster sauce………………1 tbsp
Honey………………………1 tbsp
Water………………………1 tbsp
Directions
[Preparation]
Cut Kujo Green Onion into 4cm pieces.
Cut the stem of Fushimi chilli pepper diagonally, leaving part of it. Pierce through the centre in order to prevent cracks on the pepper while frying.
Due to the big size of Manganji Pepper, cut the stem diagonally, leaving part of it. Cut it in half vertically.
Clean Daikoku hon shimeji mushrooms with wet paper towels. Remove the bottom of each stem. Cut the mushrooms vertically into 2-3 pieces.
Mix the ingredients of the sauce. For Japanese style sauce, mix seasonings   together. For Cantonese style sauce, mix seasonings together.
[Making]
① Season the pork with salt and pepper.
② Wet vegetables will make rolling difficult, dry the Kyoto vegetables with paper towels first. Put the Kyoto vegetables on the pork and begin rolling.
③ Add vegetable oil in a pan. When the oil is hot, put the rolls into the pan with seam side down.
④ When the pork turns into golden brown, add the mixed sauce.
⑤ Cook until the sauce becomes thick. Make sure the rolls are completely coated by the sauce. Serve on a plate.